| | | |
| --- | --- | --- |
| Barack Obama 44th President of the United States of America | | |
Written by CNN
Wednesday, 05 November 2008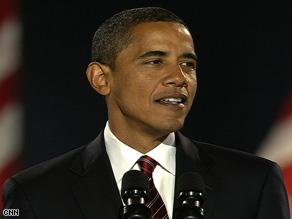 Barack Obama told supporters that "change has come to America" as he claimed victory in a historic presidential election.
He has become the first African-American to win the White House.
"To those Americans whose support I have yet to earn -- I may not have won your vote, but I hear your voices, I need your help, and I will be your president too," he said.
Read more